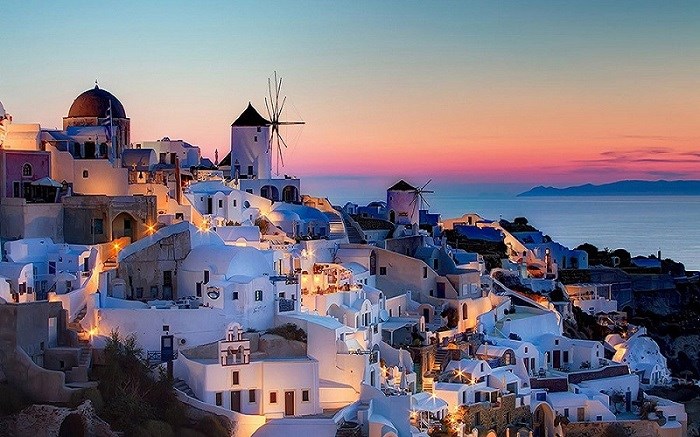 $750Per person
Mykonos
| | | | | | | |
| --- | --- | --- | --- | --- | --- | --- |
| Hotels | Category | Room | Mails | Triple | Double | Single |
| CHARISSI HOTEL | 3 | Standard | BB | 555 | 595 | 1485 |
| ELENIS VILLAGE SUITES HOTEL | 3 | Standard | BB | 515 | 725 | 1360 |
| ANASTASIA VILLAGE HOTEL | 3 | Sea View | BB | 700 | 750 | 1250 |
| PORTO MYKONOS HOTEL | 3 | Classic | BB | 1175 | 1365 | 2645 |
| PIETRA E MARE MYKONOS | 4 | Sea View | BB | 680 | 840 | 1590 |
| YIANNAKI HOTEL | 4 | Standard | BB | 785 | 875 | 1660 |
| RHENIA BUNGALOWS AND HOTEL | 4 | Sea View | BB | 915 | 1000 | 1920 |
| RHENIA MYKONOS | 4 | Sea View | BB | 995 | 1095 | 1900 |
| ADELMAR HOTEL AND SUITES | 4 | Standard | BB | 955 | 1095 | 2375 |
| PANORMOS VILLAGE HOTEL | 4 | SUPERIOR | BB | 1355 | 1240 | 2395 |
| DORION HOTEL | 4 | Standard | BB | 1155 | 1420 | 2665 |
| ARCHIPELAGOS HOTEL | 4 | Sea View | BB | 1085 | 1390 | N/A |
| KOUKOUMI VEGAN HOTEL | 4 | Standard | BB | 1235 | 1500 | N/A |
| THE GEORGE MYKONOS HOTEL | 4 | Sea View | BB | 1190 | 1740 | N/A |
| DELIADES HOTEL | 4 | JACUZZI | BB | 1165 | 1585 | N/A |
| PETASOS BEACH RESORT AND SPA | 4 | Standard | BB | 1450 | 1870 | N/A |
| MYKONOS PANORMOS VILLAS | 4 | Sea View | BB | 1425 | 2090 | N/A |
| PORTES MYKONOS SUITES AND VILLAS | 4 | DELUXE | BB | N/A | 1535 | N/A |
| SAN MARCO HOTEL | 5 | Sea View | BB | 820 | 935 | 1775 |
| MYCONIAN AVATON DESIGN HOTELS | 5 | Sea View | BB | 1255 | 1485 | 2875 |
| MYKONOS EUPHORIA SUITES | 5 | Sea View | BB | 1420 | 1485 | 2885 |
| THARROE OF MYKONOS HOTEL | 5 | Standard | BB | 1190 | 1485 | 3335 |
| ARTE AND MARE ELIA MYKONOS SUITES | 5 | Sea View | BB | 1350 | 1985 | 3840 |
| MYCONIAN UTOPIA RESORT | 5 | Sea View | BB | 1590 | 1950 | 4185 |
| MYKONOS NO5 SUITES & VILLAS | 5 | Sea View | BB | 2250 | 1650 | 3385 |
| MYKONOS PRINCESS HOTEL | 5 | SUITE | BB | N/A | 1685 | 3750 |
| HABITAT MYKONOS ALL SUITE HOTEL | 5 | JACUZZI | BB | N/A | 2455 | N/A |
| MYCONIAN VILLAS COLLECTION | 5 | JACUZZI | BB | N/A | 2450 | N/A |
Price Included
Hotel Accommodation
Transfer Airport Hotel Airport
Exclude: Airline Ticket (To be priced at the time of booking)
Mykonos All packages are available upon request
Mykonos is an island in the Cyclades group in the Aegean Sea. It's popularly known for its summer party atmosphere. Beaches such as Paradise and Super Paradise have bars that blare thumping music. Massive dance clubs attract world-renowned DJs and typically stay open well past dawn. Iconic landmarks include a row of 16th-century windmills, which sit on a hill above Mykonos town.
Chora, the local name for Mykonos town, is located in a sheltered bay on the west coast. Here, narrow, mazelike lanes are lined with white cubiform houses trimmed with bougainvillea and blue doors and shutters. Matoyianni Street is the heart of the retail scene, with chic, high-end shops, cafes and art galleries. The town's Little Venice quarter is filled with waterfront bars, seafood restaurants and houses with colorful balconies. Nearby, Panagia Paraportiani is a whitewashed church with a famously lumpy, lopsided shape.
Visa Documents
Original and copy of the passport (Passport should be valid for at least six (6) months from the date of visa issuance.)
- 2 photos (white background).
- Salary certificate and authorized signature of his which registered in Chamber of Commerce
- Original Bank statement for the last six (6) months with present balance.
- Family Register translated
For any further Information do not hesitate to contact us
Mobile WhatsApp:
Beirut +961 70 90 92 90 / Turkey +90 536 361 14 79
Email: info@avitholidays.com
Please Specify the Destination date and number of passengers so we can send you all the details by mail or WhatsApp
Cyprus – Turkey – Europa – Morocco – Brasil & More…