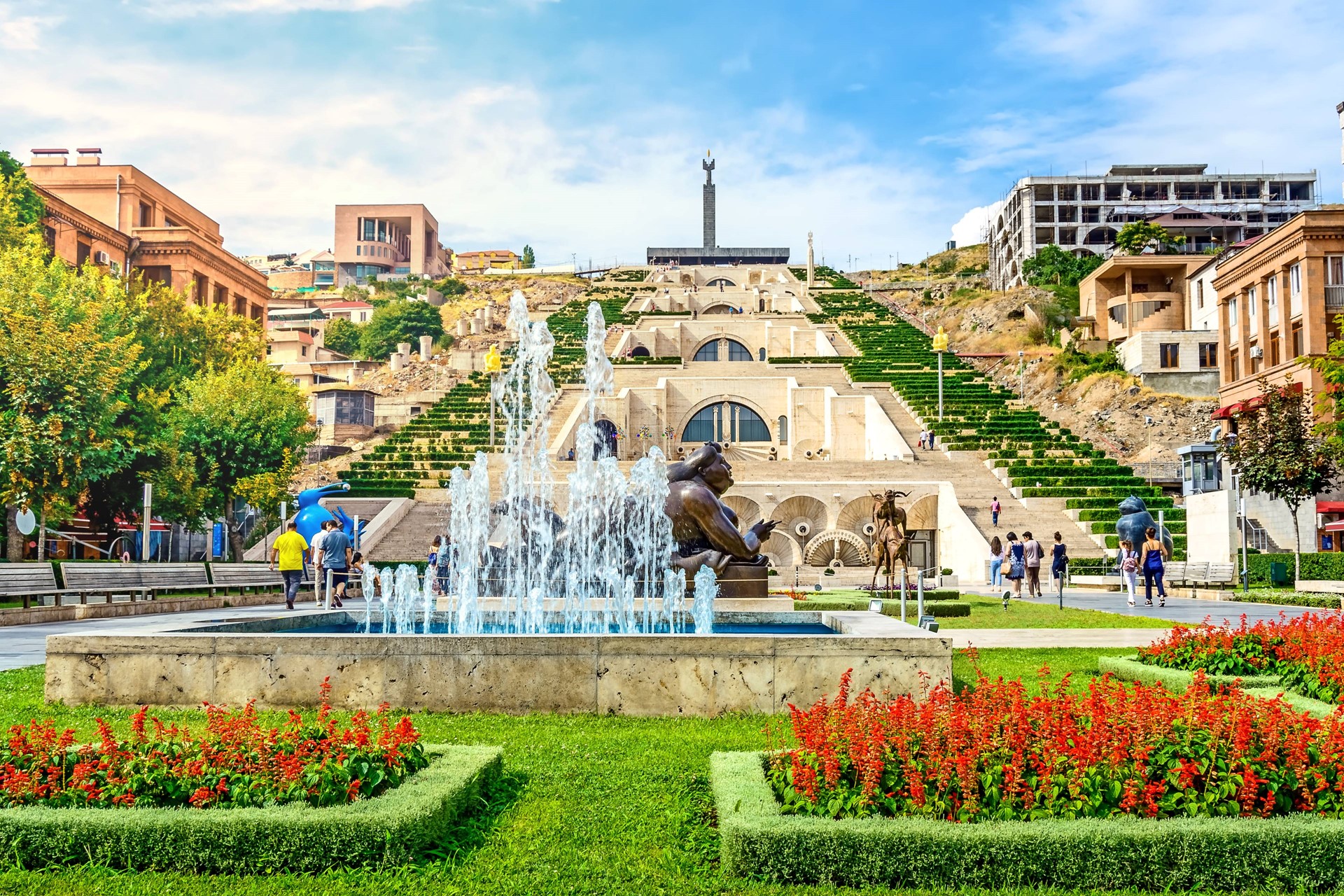 $785Per person
ARMENIA Package ( 8 Days / 7 Nights )
1st Day: Arrival
Arrival in Yerevan, meeting at the airport, transfer to the hotel. Leisure time.
2nd Day: City tour
Experience Yerevan on foot, learn more about the iconic landmarks in this beautiful city, as well as the local anecdotes and humor. Weave your way to Republic Square then move on to the Opera House. Visit the Cascades and enjoy a panoramic view of the Armenian capital from atop a giant stairway built into a Yerevan hillside. This walk through the city will reveal some of the hidden gems of Yerevan and offer an orientation to the city so you can go back in your own time to discover more of what Yerevan has to offer. Visiting Yeraz park where tourists can enjoy different activities interesting for children as well.
3rd Day: Garni-Geghard
Breakfast at hotel. After breakfast You will have a trip to the historical places of Armenia – Garni and Geghard. Garni is considered a unique temple preserved since the pagan time in Armenia. On the back way you will have a delicious lunch and lavash (Armenian traditional bread) baking class "Garni toun". You can take part in the lavash baking process and then taste it. Return to Yerevan.
4th Day: Tsakhkadzor – Sevan – Dilijan – parz lake
Breakfast at hotel. Trip to Tsakhkadzor sport complex, visiting Kecharis Monastery; cable car (funicular). On the way back to Yerevan visiting Lake Sevan, "the pearl of Armenia", which is situated at an altitude of almost 2000 m. above sea level.Visiting Churches St. Karapet and Arakelots on the peninsula. Trip to Dilijan, visiting Haghardzin monastery. Then visiting Parz lake. Back to the hotel.Leisure time.
5th Day : Free day.
6th Day: KhorVirap - Noravank - ARENI
Breakfast at hotel. Trip to KhorVirap Monastery, a pilgrimage site for the whole Armenians. Located on one of the nine hills of ancient Armenian capital city Artashat this spot was once a royal prison where St. Gregory the Illuminator (the Catholics of all Armenians) was imprisoned for 12 years. This is one of the most iconic places for the Armenian nation because it has a breath-taking view of Biblical Ararat. Visiting the neighboring region where the oldest wine facility and the leather shoe in the world were excavated. We are going to see this in Areni cave. After this we will drive through twisting gorge of the river Arpa, where among fantastic masses of the red cliffs Noravank Monastery Complex is situated. On our way back we are going to taste wine in "Areni" wine factory. Back to the hotel.Leisure time.
7th Day: Echmiadzin – machanents tourism & art
Breakfast at hotel. In the morning after breakfast drive to Echmiadzin which is 20 km from Yerevan. On the way visit to St Hripsime church which is considered to be one of the 7 wonders of Armenia. Then visiting Machanents tourism & Art where tourists can have relax and feel Armenian culture and traditions. Back to Yerevan.
8th Day: Departure
Breakfast at hotel. Transfer to the airport. Departure home.
Marriott Armenia 5* ( 525 $ )
Paris hotel 4* ( 435 $ )
Central hotel 4* ( 400 $ )
Erebuni hotel 3* ( 375 $ )
Price Per person In Double Room
· Hotel 7 Nights accommodation BB
· Transfer (airport – hotel - airport)
· Mentioned excursions
· Guide service
· Entrances
Exclude: Airline Ticket (To be priced at the time of booking)
About Armenia
Armenia is a nation, and former Soviet republic, in the mountainous Caucasus region between Asia and Europe. Among the earliest Christian civilizations, it's defined by religious sites including the Greco-Roman Temple of Garni and 4th-century Etchmiadzin Cathedral, headquarters of the Armenian Church. Khor Virap Monastery is a pilgrimage site near Mount Ararat, a dormant volcano just across the border in Turkey
For any further Information do not hesitate to contact us
Mobile WhatsApp:
Beirut +961 70 90 92 90 / Turkey +90 536 361 14 79
Email: info@avitholidays.com
Hotline Manager 24/7 WhatsApp +90 536 361 14 79