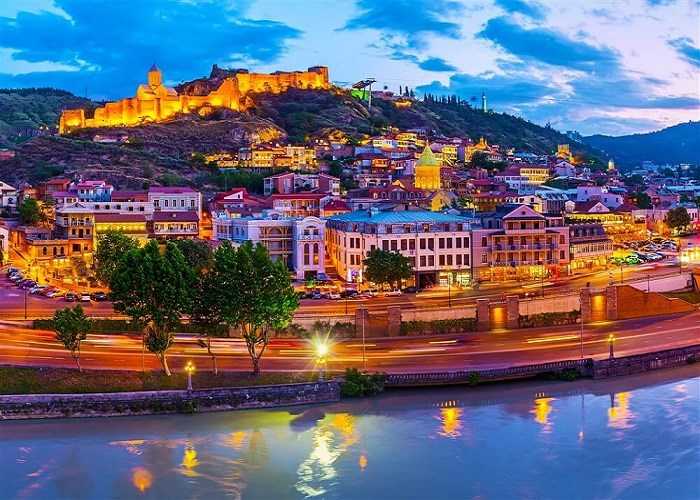 $800Per person
Tbilisi - Batumi No Visa Needed
| | | | | | | |
| --- | --- | --- | --- | --- | --- | --- |
| Hotels | Category | Room | Mails | Triple | Double | Single |
| ELLEGANCE HOTEL TBILISI | 3 | Deluxe | BB | 175 | 220 | 350 |
| IMPERIAL HOUSE TBILISI | 3 | Standard | BB | 125 | 235 | 340 |
| EPIC HOTEL TBILISI | 3 | Standard | BB | 220 | 250 | 385 |
| TIFLIS HOTEL TBILISI | 3 | Standard | BB | 225 | 255 | 385 |
| CHERRY GARDEN TBILISI | 3 | Standard | BB | 210 | 270 | 450 |
| TBILOTEL HOTEL TBILISI | 3 | Standard | BB | 225 | 265 | 410 |
| GREEN CAPE TOWER BATUMI | 3 | Standard | BB | 120 | 135 | 185 |
| POSITANO BATUMI | 3 | Standard | BB | 160 | 200 | 310 |
| SEASHELL BATUMI | 3 | Standard | BB | 200 | 260 | 430 |
| IBERIA HOTEL BATUMI | 3 | Standard | BB | 230 | 300 | 510 |
| ROGALUX HOTEL TBILISI | 4 | Standard | BB | 190 | 190 | 340 |
| L PLAZA HOTEL TBILISI | 4 | Standard | BB | 230 | 240 | 395 |
| DIPLOMAT HOTEL TBILISI | 4 | Standard | BB | 225 | 255 | 395 |
| RUSTAVELI PALACE HOTEL TBILISI | 4 | Standard | BB | 265 | 260 | 385 |
| BEST WESTERN TBILISI ART HOTEL TBILISI | 4 | Standard | BB | 240 | 275 | 430 |
| ART BOUTIQUE HOTEL TBILISI | 4 | Standard | BB | 240 | 300 | 475 |
| ASTORIA TBILISI HOTEL | 4 | Standard | BB | 255 | 325 | 585 |
| MX APART HOTEL TBILISI | 4 | Standard | BB | 255 | 335 | 585 |
| ANTIQUE RESORTS HOTEL TBILISI | 4 | Standard | BB | 265 | 355 | 625 |
| BEST WESTERN TBILISI CITY CENTER | 4 | Standard | BB | 295 | 355 | 550 |
| SOLE PALACE TBILISI | 4 | Standard | BB | 310 | 335 | 550 |
| TBILISI PARK HOTEL | 4 | Standard | BB | 285 | 355 | 595 |
| ZP PALACE HOTEL TBILISI | 4 | Standard | BB | 285 | 370 | 600 |
| GOLD STAR TBILISI | 4 | Standard | BB | 295 | 351 | 620 |
| CHVENI EZO BOUTIQUE HOTEL BATUMI | 4 | Standard | BB | 235 | 310 | 530 |
| AISI HOTEL BATUMI | 4 | Superior | BB | 265 | 330 | 520 |
| TANGERINE APART HOTEL BATUMI | 4 | Standard | X | 325 | 435 | 785 |
| BATUMI WORLD PALACE | 4 | Standard | X | 510 | 590 | 970 |
| KOBULETI BEACH CLUB | 4 | Standard | BB | 440 | 620 | 1150 |
| IOTA HOTEL TBILISI | 5 | Standard | X | 255 | 390 | 685 |
| AMBASSADORI TBILISI HOTEL | 5 | Standard | BB | 545 | 450 | 695 |
| TBILISI MARRIOTT HOTEL | 5 | Standard | X | 395 | 545 | 1000 |
| HOTELS AND PREFERENCE HUALING TBILISI | 5 | Standard | BB | 475 | 545 | 945 |
| THE BILTMORE HOTEL TBILISI | 5 | Standard | X | 635 | 680 | 1270 |
| SHERATON GRAND TBILISI METECHI PALACE | 5 | Standard | X | 600 | 735 | N/A |
| STAMBA HOTEL TBILISI | 5 | Standard | X | 655 | 885 | N/A |
| BIOLI WELLNESS RESORT TBILISI | 5 | Standard | BB | 1300 | 1545 | N/A |
| ALLIANCE PALACE HOTEL, BATUMI | 5 | Standard | X | 340 | 370 | 655 |
| GEORGIA PALACE HOTEL BATUMI | 5 | Standard | X | 350 | 425 | 690 |
| DIVAN SUITES BATUMI HOTEL | 5 | Standard | X | 345 | 440 | 825 |
| LE MERIDIEN BATUMI | 5 | Standard | X | 505 | 595 | 1100 |
| EUPHORIA BATUMI CONVENTION & CASINO | 5 | Superior | BB | 460 | 635 | 1195 |
| WYNDHAM BATUMI | 5 | Standard | BB | 545 | 660 | 1100 |
| RADISSON BLU HOTEL BATUMI | 5 | Standard | X | 485 | 680 | 1275 |
| HILTON BATUMI HOTEL | 5 | Standard | X | 595 | 750 | 1415 |
| CASTELLO MARE HOTEL & WELLNESS RESORT | 5 | Standard | BB | 745 | 930 | 1775 |
| SHERATON BATUMI HOTEL | 5 | Deluxe | X | 740 | 1010 | 1935 |
Price Include
7 Nights Accommodation
Transfer Airport Hotel Airport
Exclude: Airline Ticket (To be priced at the time of booking)
For any further Information do not hesitate to contact us
Mobile WhatsApp:
Beirut +961 70 90 92 90 / Turkey +90 536 361 14 79
Email: info@avitholidays.com
Hotline Manager 24/7 Turkey WhatsApp +90 536 361 14 79
Please Specify the date and number of passengers so we can send you all the details by mail or WhatsApp
North Cyprus – Turkey – Europa – Morocco – Brasil & More…
Georgia, a country at the intersection of Europe and Asia, is a former Soviet republic that's home to Caucasus Mountain villages and Black Sea beaches. It's famous for Vardzia, a sprawling cave monastery dating to the 12th century, and the ancient wine-growing region Kakheti. The capital, Tbilisi, is known for the diverse architecture and mazelike, cobblestone streets of its old town.
TbilisiCapital of Georgia
Tbilisi is the capital of the country of Georgia. Its cobblestoned old town reflects a long, complicated history, with periods under Persian and Russian rule. Its diverse architecture encompasses Eastern Orthodox churches, ornate art nouveau buildings and Soviet Modernist structures. Looming over it all are Narikala, a reconstructed 4th-century fortress, and Kartlis Deda, an iconic statue of the "Mother of Georgia."
Batumi City in Georgia
Batumi, a Black Sea resort and port city, is the capital of the Georgian republic of Adjara. Batumi Boulevard encompasses a waterfront promenade with a park and beach. The 130m-high Alphabetic Tower, adorned with Georgian script, has a seaside observation deck. The old town district is lined with renovated 19th-century buildings. North of the city, Batumi Botanical Garden showcases flora from around the world.
Documents
Original and copy of the passport (Passport should be valid for at least six (6) months from the date of visa issuance.)