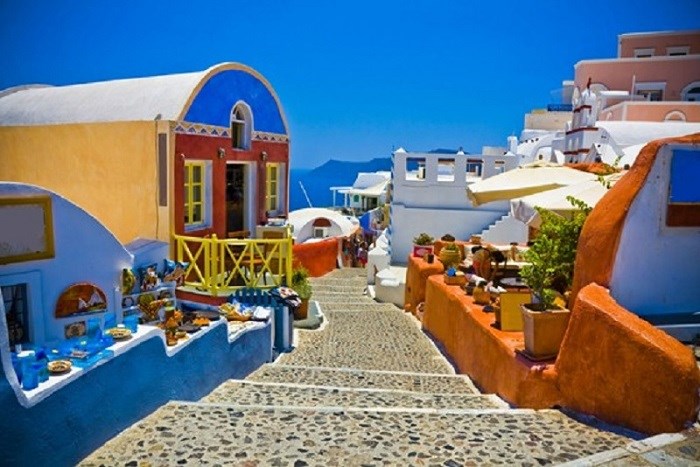 $750Per person
Santorini
| | | | | | | |
| --- | --- | --- | --- | --- | --- | --- |
| Hotels | Category | Room | Mails | Triple | Double | Single |
| PROTEAS HOTEL | 2 | Standard | BB | 330 | 370 | 655 |
| NEW HAROULA HOTEL | 2 | Standard | BB | 440 | 490 | 765 |
| MAKARIOS HOTEL | 2 | Standard | BB | 450 | 520 | 765 |
| MELINA HOTEL | 2 | Standard | BB | 470 | 600 | 1115 |
| DIVELIA HOTEL | 2 | Standard | BB | N/A | 485 | 885 |
| SIGAL VILLA | 2 | Sea View | BB | 650 | 850 | 1560 |
| CASTRO HOTEL | 3 | Standard | BB | 420 | 435 | 785 |
| CALDERA VIEW RESORT | 3 | POOL VIEW | BB | 375 | 485 | 885 |
| DROSSOS HOTEL | 3 | SUPERIOR | BB | 470 | 490 | 895 |
| ARMONIA HOTEL | 3 | CLASSIC | BB | 500 | 545 | 885 |
| ALBATROS HOTEL | 3 | Economy | BB | 460 | 645 | 1200 |
| AMERISA SUITES | 3 | Sea View | BB | 515 | 645 | 1200 |
| ANTINEA SUITES AND SPA HOTEL | 4 | Junior Suite | BB | 545 | 670 | 1220 |
| EPAVLIS HOTEL | 4 | Sea View | BB | 570 | 710 | 1340 |
| BELLA SANTORINI HOTEL | 4 | SUPERIOR | BB | 600 | 600 | 1690 |
| IMPRESSIVE ONE HOTEL | 4 | Junior Suite | BB | 635 | 815 | 1545 |
| NOTOS THERME AND SPA | 4 | Sea View | BB | 720 | 845 | 1685 |
| EL GRECO RESORT | 4 | Standard | BB | 750 | 1010 | 2185 |
| AEGEAN GEM HOTEL | 4 | Standard | BB | 785 | 1025 | 2145 |
| CAVO SANTO | 4 | Standard | BB | 805 | 1110 | 2125 |
| KALISTI HOTEL AND SUITES | 4 | SUPERIOR | BB | 1020 | 1325 | 2565 |
| APERANTO SUITES | 4 | Standard | BB | N/A | 1100 | 2110 |
| SPLENDOUR RESORT | 5 | SUPERIOR | BB | 765 | 770 | 1585 |
| ANTOPERLA LUXURY HOTEL AND SPA | 5 | PRIVATE POOL | BB | N/A | 1010 | 2110 |
| CAVO BIANCO HOTEL | 5 | SUPERIOR | BB | 840 | 1075 | 2550 |
| DE SOL RESORT | 5 | Standard | BB | 1875 | 1360 | 2635 |
| CSKY HOTEL | 5 | Sea View | BB | 1620 | 2935 | 5785 |
| WEST EAST SUITES | 5 | Deluxe | BB | 2355 | 3250 | 6400 |
7 Nights Accommodation
Transfer Airport Hotel Airport
Exclude: Airline Ticket (To be priced at the time of booking)
Island in the Aegean Sea
Santorini is one of the Cyclades islands in the Aegean Sea. It was devastated by a volcanic eruption in the 16th century BC, forever shaping its rugged landscape. The whitewashed, cubiform houses of its 2 principal towns, Fira and Oia, cling to cliffs above an underwater caldera (crater). They overlook the sea, small islands to the west and beaches made up of black, red and white lava pebbles.
Akrotiri, a Bronze Age settlement preserved under ash from the eruption, provides a frozen-in-time glimpse into Minoan life. The ruins of Ancient Thera lie on a dramatic bluff that drops to the sea on 3 sides. Fira, the island's commercial heart, has the Archaeological Museum of Thera and boutique shops. It also has a lively bar scene and tavernas serving local grilled seafood and dry white wine, made from the Assyrtiko grape. Oia is famous for sunsets over its old fortress.
Visa Documents
Original and copy of the passport (Passport should be valid for at least six (6) months from the date of visa issuance.)
- 2 photos (white background).
- Salary certificate and authorized signature of his which registered in Chamber of Commerce
- Original Bank statement for the last six (6) months with present balance.
- Family Register translated
For any further Information do not hesitate to contact us
Mobile WhatsApp:
Beirut +961 70 90 92 90 / Turkey +90 536 361 14 79
Email: info@avitholidays.com
Hotline Manager 24/7 Turkey WhatsApp +90 536 361 14 79
Please Specify the Destination date and number of passengers so we can send you all the details by mail or WhatsApp
Cyprus – Turkey – Europa – Morocco – Brasil & More…