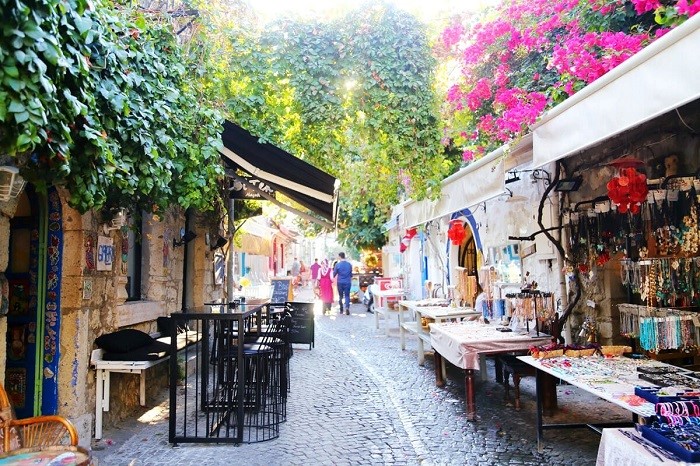 $550Per person
Turkey is our Specialty, the World is our passion…
| | | | | | | |
| --- | --- | --- | --- | --- | --- | --- |
| Hotels | Category | Room | Mails | Triple | Double | Single |
| THE NEW HOTEL ZEYBEK | 3 | Standard | BB | 180 | 180 | 200 |
| PIANO HOTEL | 3 | Standard | BB | 175 | 195 | 315 |
| BERKSOY HOTEL | 3 | Standard | BB | 180 | 230 | 260 |
| KABACAM HOTEL | 3 | Standard | BB | 190 | 245 | 420 |
| RAMADA BY WYNDHAM IZMIR ALIAGA | 3 | Standard | BB | 190 | 255 | 390 |
| MARLA HOTEL | 3 | Standard | BB | N/A | 170 | 300 |
| GRAND CORNER BOUTIQUE HOTEL | 4 | Standard | BB | 175 | 210 | 270 |
| PALM CITY OTEL | 4 | Standard | BB | 190 | 200 | 265 |
| BLANCA HOTEL | 4 | Standard | BB | 190 | 210 | 270 |
| ANEMON EGE SAGLIK HOTEL | 4 | Deluxe | BB | 210 | 240 | 345 |
| RAMADA PLAZA BY WYNDHAM IZMIR | 4 | Deluxe | BB | 220 | 235 | 380 |
| ANEMON EGE HOTEL | 4 | Deluxe | BB | 240 | 250 | 335 |
| ANEMON HOTEL IZMIR | 4 | Deluxe | BB | 240 | 260 | 350 |
| HILTON GARDEN INN IZMIR BAYRAKLI | 4 | Standard | BB | 260 | 310 | 470 |
| FOUR POINTS BY SHERATON IZMIR | 4 | Balcony | BB | 330 | 425 | 715 |
| DOUBLETREE BY HILTON IZMIR ALSANCAK | 4 | Deluxe | BB | 360 | 435 | 670 |
| VOLLEY HOTEL IZMIR | 4 | Standard | BB | N/A | 255 | 390 |
| CLUB CACTUS PARADISE | 4 | Standard | AI | 450 | 520 | 800 |
| CLUB RESORT ATLANTIS ALL INCLUSIVE | 4 | Standard | AI | 530 | 595 | 905 |
| HALIC PARK DIKILI | 4 | Deluxe | AI | 765 | 845 | N/A |
| RADISSON HOTEL IZMIR ALIAGA | 5 | Standard | BB | N/A | 310 | 430 |
| RENAISSANCE IZMIR HOTEL | 5 | Deluxe | BB | 415 | 495 | 835 |
| KAYA IZMIR THERMAL AND CONVENTION | 5 | Deluxe | BB | 320 | 410 | 685 |
| MOVENPICK HOTEL IZMIR | 5 | Superior | BB | 430 | 465 | 785 |
| WYNDHAM GRAND IZMIR OZDILEK | 5 | Standard | BB | 480 | 600 | 1020 |
| ROYAL TEOS THERMAL RESORT CLINIC | 5 | Standard | AI | 490 | 550 | 1020 |
| ARIA CLAROS BEACH & SPA RESORT | 5 | Standard | AI | 570 | 585 | 820 |
| IZMIR MARRIOTT HOTEL | 5 | City View | BB | 600 | 755 | N/A |
| SWISSOTEL BUYUK EFES IZMIR | 5 | Standard | BB | 720 | 870 | N/A |
| SUNIS EFES ROYAL PALACE RESORT AND SPA | 5 | Standard | AI | 795 | 875 | 1280 |
| PALOMA PASHA HOTEL | 5 | Standard | AI | 1130 | 1250 | N/A |
| CLUB MARVY BY PALOMA | 5 | Adults Only | AI | 1510 | 1680 | N/A |
Price Included
7 Nights Accommodation
Transfer Airport Hotel Airport
Exclude: Airline Ticket (To be priced at the time of booking)
For any further Information do not hesitate to contact us
WhatsApp:
Beirut +961 70 90 92 90
Email:
Please Specify the Destination date and number of passengers so we can send you all the details by mail or WhatsApp
North Cyprus – Turkey – Europa – Morocco – Brasil & More…
About Izmir is a city on Turkey's Aegean coast.
Known as Smyrna in antiquity, it was founded by the Greeks, taken over by the Romans and rebuilt by Alexander the Great before becoming part of the Ottoman Empire in the 15th century. Today, its expansive archaeological sites include the Roman Agora of Smyrna, now an open-air museum. The hilltop Kadifekale, or Velvet Castle, built during Alexander's reign, overlooks the city.