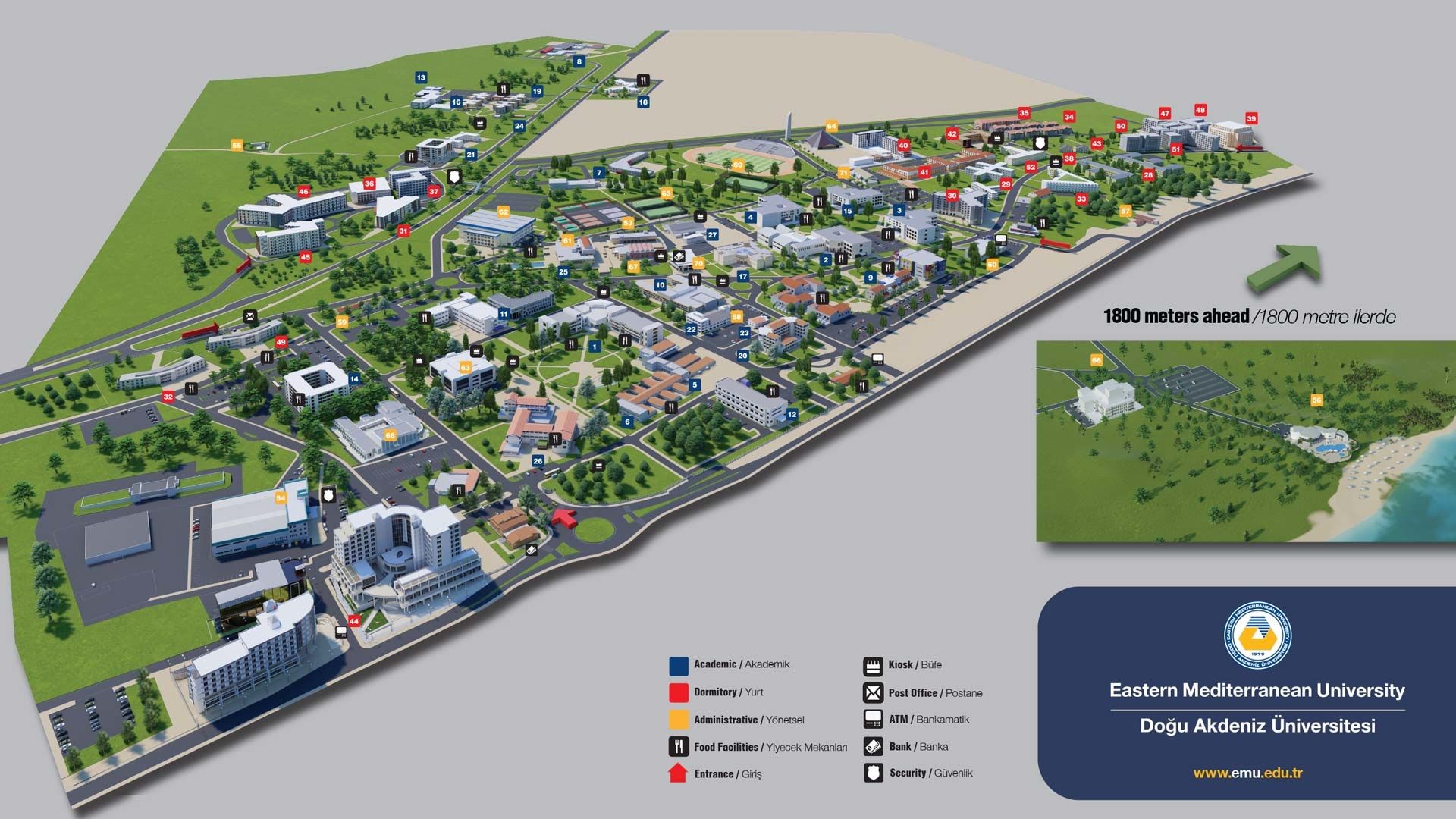 The university is accredited by ABET in the United States of America
The Eastern Mediterranean University, located in Northern Cyprus, was established in 1979 under the leadership of Onay Fadıl Demirciler as a higher-education institution of technology for Turkish Cypriots. In 1986, it was converted to a state university. The campus is located within the city of Famagusta
With its highly developed infrastructure, prominent academic staff members, 20,000 students from 106 and 1,100 academics from 35 different countries, quality programs in English, the opportunity of learning a second foreign language, student exchange programs, rich sports, social and cultural activity opportunities, international accreditations, an international teaching context, and a diploma recognised throughout the world, EMU prepares its students for their international careers by educating them in becoming creative and competitive individuals with entrepreneurial skills.
EMU has been offering quality education through 100 undergraduate and school programs and 81 postgraduate and doctoral degree programs provided by 12 faculties, 5 schools and Foreign Languages and English Preparatory School.
FACULTY OF ARTS & SCIENCES
Actuarial Science
Mathematics and Computer Science
Molecular Biology and Genetics
Psychology
Translation and Interpretation
FACULTY OF BUSINESS & ECONOMICS
Business Administration
Economics
International Relations
Political Science
Public Administration
FACULTY OF EDUCATION
English Language Teaching
Guidance and Psychological Counseling
FACULTY OF MEDICINE
Medicine
Medicine (Joint program - Iran University of Medical Sciences)
FACULTY OF HEALTH SCIENCES
Nutrition & Dietetics
Physiotherapy & Rehabilitation
Nursing
FACULTY OF COMMUNICATION AND MEDIA STUDIES
Animation and Game Design
Public Relations and Advertising
Radio-Tv and Film Studies
Visual Arts and Visual
Communication Design
FACULTY OF PHARMACY
Pharmacy (B.Pharm.)
Pharmacy (Pharm.D.)
Pharmacy (Pharm.D.) with Kerman University)
FACULTY OF DENTISTRY
Dental Medicine
(Collaborative Program with IUMS)
FACULTY OF ARCHITECTURE
Architecture
Interior Architecture
FACULTY OF ENGINEERING
Civil Engineering
Computer Engineering*
Software Engineering
Electrical and Electronic Engineering*
Information Systems Engineering*
Industrial Engineering*
Management Engineering
Mechanical Engineering (JPBU - University of Gazi)
Mechanical Engineering*
Mechatronics Engineering
Biomedical Engineering
Electronics and Communications Engineering
SCHOOL OF TOURISM AND HOSPITALITY
Tourism and Hospitality
Management
Tourism and Hospitality (2-year program)
Civil Aviation Cabin Services (2-year program)
SCHOOL OF COMPUTING AND TECHNOLOGY
Information Technology
SCHOOL OF BUSINESS AND FINANCE
Banking and Finance
Banking and Insurance
International Finance
International Trade & Business
Management Information Systems
Marketing
Human Resources
Management
Pop Art Student Dormitory in Famagusta | EMU Student Dormitory offers a life at home and in the comfort of a five-star hotel. Eastern Mediterranean University
POP-ART Student Dormitory located at the south campus of EMU with the rooms preferably designed as:
* Single Suit Room (27 m2)
* Double Suit Room (32 m2)
* Double Studio Room (50 m2)
* 2+1 VIP Room
* King Room
By having the best quality and price, POP ART DORMS changed the traditional dormitory concept while not being a temporary place for accommodation, but a motivation center designed for education. Pop Art has a very advantageous location while also hosting;
*Market *Restaurant *GloriaJeans
*Game Center *Library *Cineme
*Fitness Center * Laundry *Hairdresser
POP ART DORMS; is the most luxurious student residence in the campus, with the professional staff.
EXTRA INFORMATION:
* Every week we clean the room twice
* we change the bed sheets weekly.
* we separate the men and women floors (this is only available in our dormitory)
* If your family comes to visit during your stay we give them a guest room for free to stay.
* All the faculties are 5 Mins walking distance from our dormitory.
To study in Northern Cyprus
Eastern Mediterranean University
Apply the application for free at Avit Holidays Office
50% discount for all Majors except medicine
The university is accredited by ABET in the United States of America
For more information, WhatsApp North Cyprus +90 539 118 78 96 Turkey +90 536 361 14 79