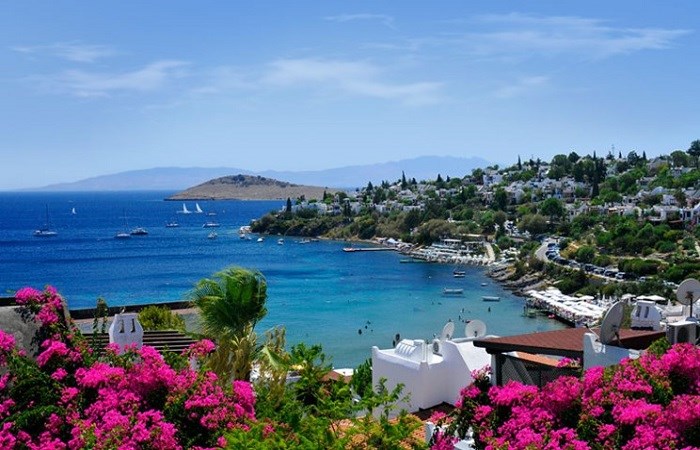 $550Per person
Gümbet
Turkey is our Specialty, the World is our passion…
| | | | | | | |
| --- | --- | --- | --- | --- | --- | --- |
| Hotels | Category | Room | Mails | Triple | Double | Single |
| HAKAN HOTEL BODRUM | 3 | Standard | BB | 210 | 240 | 410 |
| GUMBET HOTEL | 3 | Standard | BB | 215 | 285 | 500 |
| NATUR GARDEN HOTEL | 3 | Standard | AI | 330 | 360 | 505 |
| NAGI BEACH HOTEL | 3 | Sea View | HB | 325 | 350 | 630 |
| COSTA BODRUM CITY | 3 | Standard | BB | 275 | 375 | 655 |
| PANORAMA HOTEL BODRUM | 3 | Standard | BB | 360 | 360 | 500 |
| GUMBET ANIL BEACH HOTEL | 3 | Standard | AI | 295 | 745 | 705 |
| BODRUM BEACH RESORT | 4 | Standard | BB | 245 | 250 | 415 |
| SHARK CLUB HOTEL | 4 | Standard | AI | 365 | 400 | 560 |
| LATANYA PARK RESORT | 4 | Standard | AI | 430 | 450 | 785 |
| PETUNYA BEACH RESORT | 4 | Standard | AI | 460 | 500 | 925 |
| BODRUM PARK RESORT | 4 | Standard | AI | 490 | 530 | 990 |
| JASMIN BEACH HOTEL | 4 | Standard | AI | 530 | 580 | 1090 |
| PARKIM AYAZ HOTEL | 4 | Standard | AI | 585 | 640 | 925 |
| ZEYTINADA HOTEL | 4 | Standard | HB | 635 | 740 | 1155 |
| SUNDANCE RESORT | 5 | Standard | AI | 460 | 510 | 720 |
| ROYAL ASARLIK BEACH HOTEL | 5 | Standard | AI | 480 | 525 | 755 |
| GRAND PARK BODRUM HOTEL | 5 | Standard | AI | 505 | 555 | 795 |
| DIAMOND OF BODRUM HOTEL | 5 | Standard | AI | 620 | 680 | 980 |
| YASMIN BODRUM RESORT | 5 | Standard | AI | 640 | 700 | 1010 |
| KAIRABA BODRUM IMPERIAL | 5 | Standard | AI | 580 | 685 | 1300 |
| BODRUM HOLIDAY RESORT AND SPA | 5 | Standard | AI | 630 | 690 | 1310 |
| MARMARA BODRUM HOTEL | 5 | DELUXE | BB | 650 | 715 | 1230 |
| AZKA HOTEL | 5 | Sea View | HB | 680 | 750 | 1090 |
| CRYSTAL GREEN BAY RESORT AND SPA | 5 | Standard | AI | 695 | 765 | 1460 |
| SALMAKIS RESORT AND SPA | 5 | Standard | BB | 760 | 830 | 1210 |
| ERSAN RESORT AND SPA | 5 | Standard | AI | 865 | 920 | 1770 |
| SWISSOTEL RESORT BODRUM BEACH | 5 | Swiss Room | BB | 1085 | 1410 | N/A |
| VOYAGE BODRUM HOTEL | 5 | ADULT ONLY | AI | 1150 | 1270 | 2230 |
| TITANIC DELUXE BODRUM | 5 | Standard | AI | 1950 | 2180 | 3235 |
Price Included
7 Nights Accommodation
Transfer Airport Hotel Airport
Exclude: Airline Ticket (To be priced at the time of booking)
For any further Information do not hesitate to contact us
Mobile WhatsApp:
Beirut +961 70 90 92 90 / Turkey +90 536 361 14 79
Email: info@avitholidays.com
Hotline Manager 24/7 Turkey WhatsApp +90 536 361 14 79
Please Specify the Destination date and number of passengers so we can send you all the details by mail or WhatsApp
North Cyprus – Turkey – Europa – Morocco – Brasil & More…
About Bodrum
Bodrum is a town on the southern Aegean coast of Turkey, popular with tourists from all over the world. With its spectacularly serene azure bays, inexhaustible nightlife and vast and impressive archaeological heritage, Bodrum offers to its visitors all ingredients for a fabulously relaxing holiday.
What to visit
Encircled by crystal clear waters lapping quietly onto the region's countless bays and coves, this gift of nature has the power to make you forget that you are in the land of Herodotus.
In the center of Bodrum town get fascinated while visting the remains of the Mausoleum of Mausolus, one of the Seven Wonders of the Ancient World or the late Bronze-Age shipwreck, the Uluburun, preserved within the Castle of St. Peter, a Crusader stronghold.
The seaside village ports of Torba, Türkbükü, Yalikavak, Yaliçiftlik, Gümüslük, Bitez and Türgüt Reis together comprise what has become known as the St. Tropez of Turkey. For it is here that the Blue Voyage began its journey through the years to become one of the more unforgettable experiences of a lifetime.
Yet if Bodrum is renowned for any one thing, it's the nightlife, alternatively pulsating, romantic and vibrant.
Suggested tours
Temples of Miletus, Priene and Didyma day excursion, Bodrum Highlight, Boat trip, Kayaking, Water sport, Dalyan Delight, Bodrum Highlight, Ephesus and Breezes and Bodrum Peninsula tour.