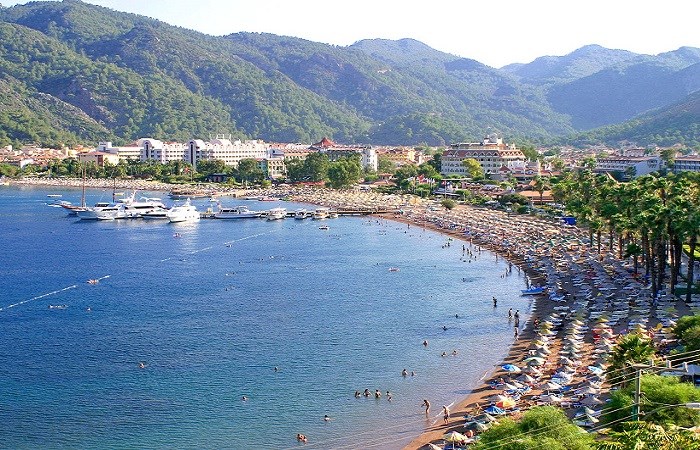 $550Per person
Fethiye Ölüdeniz Marmaris
Turkey is our Specialty, the World is our passion…
| | | | | | | |
| --- | --- | --- | --- | --- | --- | --- |
| Hotels | Category | Room | Mails | Triple | Double | Single |
| CLUB CHICAGO HOTEL | 3 | Deluxe | BB | 150 | 160 | 215 |
| PRIVATE HOTEL | 3 | Standard | BB | 150 | 170 | 240 |
| GREEN PALM HOTEL | 3 | Standard | BB | 200 | 220 | 285 |
| MY DREAM HOTEL | 4 | Standard | BB | 220 | 245 | 350 |
| MERSOY EXCLUSIVE HOTEL | 4 | Standard | AI | 240 | 260 | 360 |
| GRAND HOTEL FAROS | 4 | Standard | AI | 310 | 335 | 470 |
| MUNAMAR BEACH RESORT | 4 | Standard | AI | 325 | 355 | 475 |
| SESIN HOTEL | 4 | Standard | AI | 330 | 365 | 510 |
| THE ONE CLUB HOTEL | 4 | BALCONY | AI | 410 | 440 | 625 |
| MIRAGE WORLD HOTEL | 4 | Standard | AI | 410 | 450 | 640 |
| PINETA PARK DELUXE HOTEL | 4 | Standard | AI | 385 | 455 | 720 |
| MEHTAP BEACH | 4 | Sea view | AI | 395 | 430 | 790 |
| COSTA MARE SUITES | 4 | Standard | AI | 425 | 455 | 650 |
| DORA BEACH HOTEL | 4 | Standard | AI | 425 | 460 | 850 |
| XL HOTEL SARIGERME | 4 | Standard | AI | 470 | 515 | 740 |
| MARMARIS BEACH HOTEL | 4 | Standard | AI | 410 | 535 | 995 |
| KAYAMARIS HOTEL | 4 | Standard | AI | 490 | 535 | 770 |
| KERVANSARAY MARMARIS HOTEL | 4 | Standard | AI | 510 | 550 | 910 |
| JULIAN CLUB HOTEL | 4 | Standard | AI | 615 | 650 | 975 |
| GREEN NATURE RESORT AND SPA | 5 | Standard | AI | 560 | 570 | 820 |
| FORTEZZA BEACH RESORT | 5 | Standard | AI | 560 | 615 | 995 |
| LABRANDA MARES MARMARIS | 5 | Standard | AI | 535 | 640 | 1045 |
| VOXX MARMARIS BEACH RESORT | 5 | Sea view | AI | 570 | 630 | 1045 |
| BLUE BAY PLATINUM HOTEL | 5 | Standard | AI | 595 | 645 | 1040 |
| MARTI RESORT HOTEL | 5 | Deluxe | HB | 645 | 710 | N/A |
| TURUNC PREMIUM HOTEL | 5 | Standard | AI | 710 | 770 | 1120 |
| TUI MAGIC LIFE SARIGERME | 5 | BALCONY | AI | 720 | 765 | 1110 |
| MARTI RESORT DELUXE HOTEL | 5 | Standard | HB | 700 | 770 | N/A |
| SENTIDO ORKA LOTUS BEACH | 5 | Standard | AI | 970 | 1070 | 1570 |
| GREEN NATURE DIAMOND HOTEL | 5 | Standard | AI | 1010 | 1110 | 1630 |
7 Nights Accommodation
Transfer Airport Hotel Airport
Exclude: Airline Ticket (To be priced at the time of booking)
For any further Information do not hesitate to contact us
Mobile WhatsApp:
Beirut +961 70 90 92 90 / Turkey +90 536 361 14 79
Email: info@avitholidays.com
Hotline Manager 24/7 Turkey WhatsApp +90 536 361 14 79
Please Specify the Destination date and number of passengers so we can send you all the details by mail or WhatsApp
North Cyprus – Turkey – Europa – Morocco – Brasil & More…
About Marmaris
Marmaris is a town in Turkey, along the Mediterranean coast . It is considered as the gem of Turkey's Turquoise Coast, and deemed to be the ultimate resort for vacationers seeking the perfect getaway location whilst experiencing and enjoying the native hospitality, cafes, night clubs and bars. Around an hour drive from the international airport in Dalaman, Marmaris is known as a multicultural resort town with tons of fantastic locations and landscapes.
Holidays in Marmaris are popular with couples, families and groups that enjoy the colorful life on the Turkish Riviera.
What to visit :
The beaches of Marmaris are enhanced by the sunny weather: the best are the Icmeler, Gunluk Park and Turtle beaches. There are a number of noteworthy landmarks spread around this popular Turkish seaside city, with the 16th-century Marmaris Castle , being amongst the most eye-catching and famous. The Old Town area is home to many of the city's most historic sights and is packed with character, with lots of these buildings having been converted to shops and restaurants. Also known for its shopping and cheap eats is the Grand Bazaar, which functions as the city's principal marketplace and is a good place to pick up a Turkish souvenir or two.
Suggested tours:Our representative will propose to you optional excursions like:
Jeep Safari, Rafting, Boat Trip, Turkish bath, Waterpark and a big range of Watersports.